Eclipsi Psychology Books
In 2018, Eclipsi, a publishing house with more than 10 years of experience in the areas of psychology and cognitive-behavioural psychotherapy, joined the world of Erickson. Thanks to this choice, Erickson strengthens its presence and publications in the psychology and psychotherapy sector, taking advantage of the scientific advice of the Institute of Psychology and Cognitive Behavioral Psychotherapy in Florence (IPSICO), a research and training institute active for over 20 years.
With the acquisition of the Eclipsi catalog, which is of unquestionable scientific importance, the Erickson catalog extends its proposals to all readers, with volumes of informative cut, and towards the community of professionals, with useful volumes for clinicians in therapeutic work. The general readers will find that the self-help titles present a clear and detailed picture of the symptoms and characteristics of the main psychological disorders and their related intervention possibilities. The professional readers will find valid tools and support for study, research and clinical activity.
---
Self-help books
Informational volumes, aimed at those who suffer from the psychological disorders talked about and their family members, to inform them about the most recent and scientifically valid forms of treatment that exist
---
Books for mental health professionals
Volumes in the psychological/psychiatric field, with particular attention to the cognitive and cognitive-behavior approach, aimed at professionals working in the field of mental health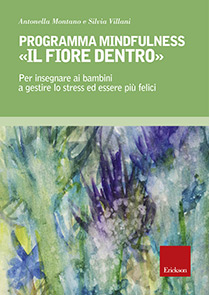 Antonella Montano, Silvia Villani
MINDFULNESS PROGRAM "THE FLOWER INSIDE"
TEACHING CHILDREN TO MANAGE STRESS AND BE HAPPIER
A structured guide for the application of a program for teaching mindfulness meditation aimed at children aged 6 to 12 years. This program can be proposed as a training project at school or as an independent extra-scholastic activity.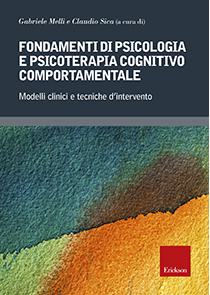 Claudio Sica, Gabriele Melli
FUNDAMENTALS OF PSYCHOLOGY AND COGNITIVE BEHAVIORAL PSYCHOTHERAPY
CLINICAL MODELS AND INTERVENTION TECHNIQUES
The aim of this book is to provide those who approach the methodologies of cognitive behavioral therapy for the first time with a comprehensive overview of all models, and the strategies that derive from them, with particular attention to the implications of application and a wide range of practical examples.