HOW TO PLAY
Game objective The objective of the game is to quickly place the cherries on the cake based on the indications of the dice, in order to earn more candle cards than your opponents.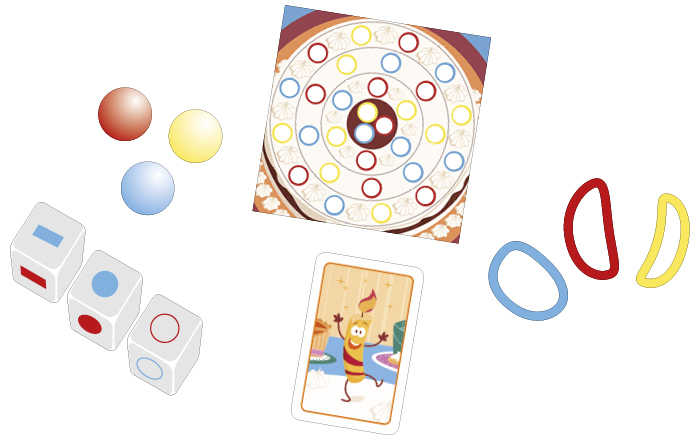 Game set-up
The game is composed of: 1 "cake" game board divided into 4 concentric circles; 15 little cherry balls (5 yellow, 5 red, and 5 blue); 18 elastic bands (6 yellow, 6 red, and 6 blue); 10 candle cards; three dice.
To begin, insert the "cake" game board into the box andplace it in the centre of the table. Place the little balls and the elastic bands in the lid of thebox. Prepare the materials in the box based on the number of players as indicated in the following"gameplay chart".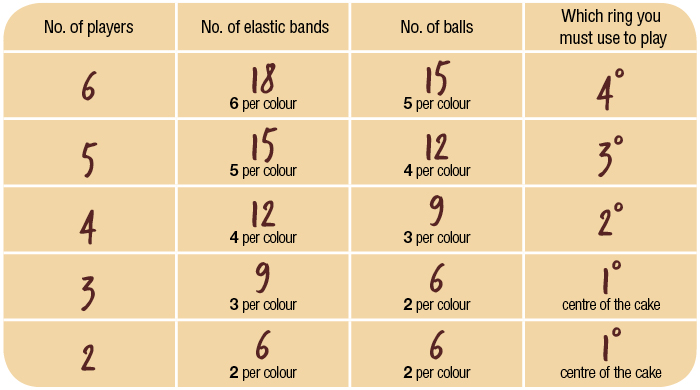 Things to know before starting the game
The meaning of the dice:

The colour of the elastic to loop around your thumb

The colour of the cherry ball to take
The colour of the hole in which to place the cherry ball
The blue and red cherry balls and the blue and red elastic bands are represented on the dice by their respective colours, while the yellow cherry balls and the yellow elastic bands are indicated by blank dice faces. The player, looking at the three dice, must remember the missing colour, yellow, and deduce which element that colour refers to.
Starting the game!
The youngest players throws the dice. At this point all players must complete the following actions in this order:
loop the colour of elastic indicated by the dice around their thumb
pick up a cherry ball of the same colour as indicated by the dice
place the cherry ball in the correct coloured hole as indicated by the dice
Players who do not succeed in taking correct coloured elastic or cherry ball, or those who do not place the cherry ball in the correct coloured hole in the correct ring on the cake are eliminated. After each round, play passes to the next ring of the cake, working inwards, reducing the number of elements in play.
Who wins?
The last player remaining in the game earns a candle card. At this point, the game starts again from the beginning with all players. The winner of the games is the player who collects the number of candle cards established at the beginning of the game.